Boat pressure washing should be done on an annual basis – more often for racers. Our staff is experienced in cleaning hulls with our professional washing system. If you plan to pressure wash your own boat, here are a few tips: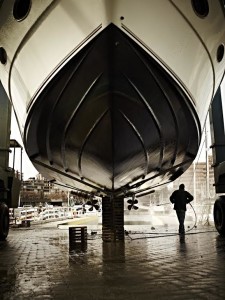 A PRESSURE WASHER CUTS LIKE A KNIFE – PROTECT YOURSELF AND YOUR CREW!
Insure all windows and hatches are closed and well-sealed
Insure the water drains on the boat are open
Remove items you don't want to get wet (outdoor carpets etc…)
Have a means to get rid of excess water before you start power washing
Make sure the area is clean to insure you don't track dirt back in the boat upon entry
For best results, make sure the spray is directed at 90 degrees to the surface
Clean in small 3 to 4 foot sections keeping the nozzle perpendicular to the area
Start with the highest point of the boat's hull being cleaned
In many cases, there are specific times for cleaning agents to be on hull surfaces
When washing dock lines, apply plenty of water with no detergents
Topsides are done last.
If your boat is equipped with waterways, pull the plugs out to get rid of the water
Use a squeegee and absorber to dry
Windows are cleaned separately with the appropriate solution
Do not allow wash water to spill over the sea wall; it must go down the drain and through our environmental protection system.
Power wash Prices:
$3.00 per linear foot of boat
$4.00 + per linear foot for heavy growth
i.e. if staff has to scrape mussels or barnacles.